2021-08-18
Company Introduction
Sing Siang Machinery Co., Ltd. (SSM) is established in 1975 in Taiwan, specialized in all kinds of bag-making machines, and always provides customers with the most comprehensive technological service. Based on more than 30 years of design and manufacturing experience, SSM is capable of designing machines with practical performance for customers, at a reasonable and competitive price.
Each SSM machine is subject to rigorous quality inspection and performance tests before shipment to ensure the best possible performance. SSM is a symbol of dependable quality.
Company product
Sing Siang has strong technology background and operation process experience to conduct strict inspections on all kinds of bag-making machines to meet customer expectations so that we have manufactured all kinds of bag-making machines.
Now, Our Product lines have a bottom sealing bag making machine .side sealing bag making machine,T-shirt bag making machine, heavy-duty bag making machine, and special type bag making machine.
Medical Waterproof Disposable Table Paper Cutting Machine Model: SHCG-42MP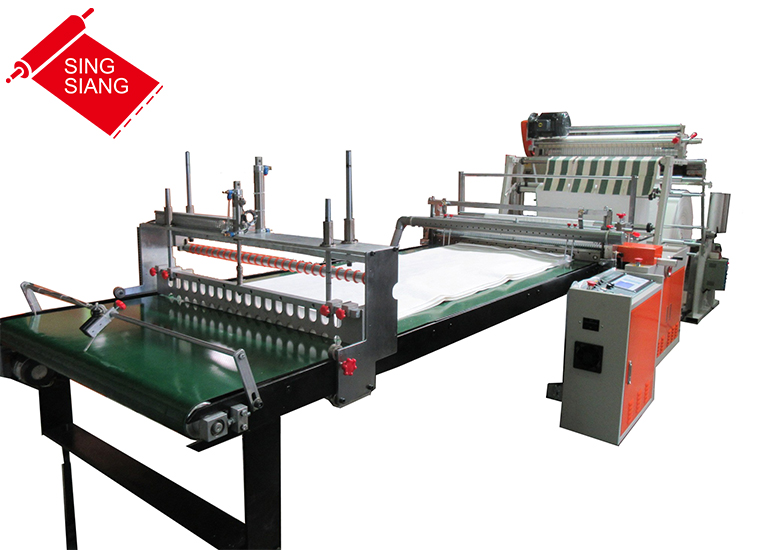 Special Features
● Servo Motor Driven for precise length cutting
● Infeed Dance Roller Control with inverter Motor
● Air Cylinder Lifter Heavy Duty Unwinder for 300KG Paper Roll
● Collect Conveyor for friendly operation

Applications
● On sickbeds inwards for daily checks.
● On operating tables.
● In cleanrooms and laboratories.
● At nursing homes.
● Used in obstetrics and gynecology (OBGYN), internal medicine, surgery, dialysis, lavement, ultrasound examination, and other examinations.
Finished Products Characteristics
● 100% pure wood pulp.
● Soft and fine touch.
● Excellent absorbent.
● Waterproof. (coated with PE).
● Keep hygienic.
● Not dissolve in water.
● Customization.
▶ PAPER CUTTING MACHINE 裁紙機 切張機 裁切機 SHCG-42
Future
In the future, we will improve our technology to be more efficient, used –friendly and durable to stay competitive in the market from constant customer feedback and information.
To get more information about Sing Siang Machinery, please visit the links below:
SING SIANG in PRM-TAIWAN:
http://www.prm-taiwan.com/com/sing-siang.html