2020-12-15
⦁ Company introduction
Sing Siang Machinery Co., Ltd. (SSM) is established in 1975 in Taiwan, specialized in all kinds of bag making machines, and always provides customers with the most comprehensive technological service. Based on more than 30 years of design and manufacturing experience, SSM is capable of designing machines with practical performance for customers, at a reasonable and competitive price.
Each SSM machine is subject to rigorous quality inspection and performance tests before shipment to ensure the best possible performance. SSM is a symbol of dependable quality.
⦁ Company product
Sing Siang has strong technology background and operation process experience to conduct strict inspection on all kinds of bag making machines to meet customer expectations, so that we have manufactured all kinds of bag making machines.
Now, Our Product lines have a bottom sealing bag making machine .side sealing bag making machine,T-shirt bag making machine, heavy duty bag making machine and special type bag making machine.
⦁ Three fold T-shirt style garbage bag making and folding machine with servo motor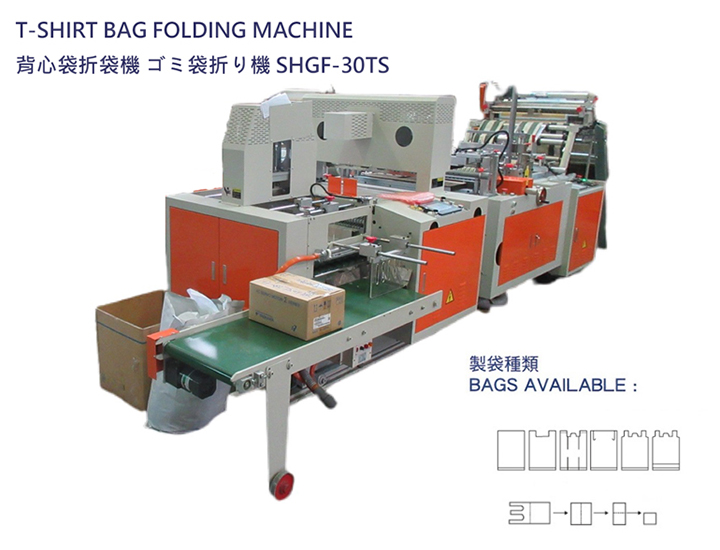 Supported by all our customers worldwide, we have a chance to innovate our product to meet advanced standards, we have won a good reputation in the bag-making area. To meet the challenge of ever-changing market conditions and uplift of production efficiency, Sing Siang has invested greatly into developing and innovating and training all our employees. All the machine making processes are rigidly supervised to make perfect quality and advanced equipment.
Sing Siang bag making machine has developed humanized and automatic operating functions in pursuit of good quality and high efficiency. Through a central control system with human-machine interface touch screen and PLC control, plus automatic alarm system, operators can accurately and simply control the bag making machine quality.
Sing Siang is proud to introduce three fold T-shirt style garbage bag making and folding machines with servo motors. T-shirt cut clean and neatly! T-shirt garbage bag making machine finished with the bag being folded piece by piece! Huge labor saving high productivity stability! Folding part is driven by a servo motor, the machine can fold the bag faster and more stably. 2 fold, 3 fold , 4 fold and 5 fold are available! The new folding part equipped with servo motor and planet gear, makes the fold faster and accurately.
▶ T SHIRT BAG FOLDING MACHINE 背心式垃圾袋折袋機 ゴミ袋折り機SHGF 30TS
⦁ Future
In the Future, we will improve our technology to be more efficient, used –friendly and durable to stay competitive in the market from constant customer feedback and information.
To get more information about Sing Siang Machinery, please visit the links below:
SING SIANG in PRM-TAIWAN:
http://www.prm-taiwan.com/com/sing-siang.html