2019-05-17
Sing Siang Machinery Co., Ltd. (SSM) is established in 1975 in Taiwan, specialized in all kinds of bag making machines, always provides customers with the most comprehensive technological service. Based on more than 30 years of design and manufacturing experience, SSM is capable of design machines with practical performance for customers, at a reasonable and competitive price.
Each SSM machine is subject to rigorous quality inspection and performance tests before shipment to ensure the best possible performance. SSM is a symbol of dependable quality. Sing Siang has strong technology background and operation process experience to conduct strict inspection on all kinds of bag making machines to meet customer expectations, so that we have manufactured all kinds of bag making machine. Now, Our Product lines have bottom sealing bag making machine .side sealing bag making machine, T-shirt bag making machine, heavy duty bag making machine and special type bag making machine.
Supported by all our customers in worldwide, we have a chance to innovate our product to meet the advanced standard, we have won the good reputation in the bag-making area. To meet the challenge of ever-changing market conditions and uplift of production efficiency, Sing Siang has invested greatly into developing and innovation and training all our employee. All the machine making process are rigidly supervised to make perfect quality and advanced equipment.
The Sterilized Reel Pouch Making Machine
The Sterilized Reel Pouch Making Machine is designed for producing Medical Pouch, Sterilized Pouch used in the pharmaceutical industries.
Main drive AC motor + inverter control.
The Sterilized Pouch length is accurately controlled by servo motor incorporated with mark sensor for greatly upgrading the production speed.
Twin Rolls unwind stand suits for two layers of different materials and multi-line production which upgrades efficiency greatly.
Two sets of dancer-roller unit provide the stable feeding tension both upper and lower web.
Equipped with microprocessor PID temperature controllers provide the most accurate and fastest heating performance.
Equipped with two sets of shear knives for bag partition.
Micro computer control system.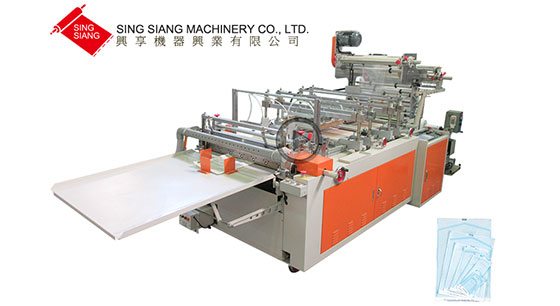 Future
In the Future, we will improve our technology to be more efficient, used –friendly and durable to stay competitive in the market from constant customer feedback and information. If you have any questions, please do not hesitate to contact with us.