2017-01-04
※ Company introduction
Sing Siang Machinery Co., Ltd. (SSM) is established in 1975 in Taiwan, specialized in all kinds of bag making machines, always provides customers with the most comprehensive technological service. Based on more than 30 years of design and manufacturing experience, SSM is capable of design machines with practical performance for customer, at a reasonable and competitive price. Each SSM machine is subject to rigorous quality inspection and performance tests before shipment to ensure the best possible performance. SSM is a symbol of dependable quality.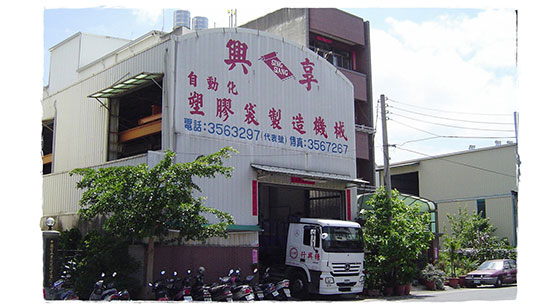 ※ Company product
Sing Siang has strong technology background and operation process experience to conduct strict inspection on all kinds of bag making machines to meet customer expectations, so that we have manufactured all kinds of bag making machine. Now, Our Product lines have bottom sealing bag making machine .side sealing bag making machine, T-shirt bag making machine, heavy duty bag making machine and special type bag making machine.
※Servo Motor Driven Double Folding Perforating Bag Making Machine with Automatic Rewinding Module
Supported by all our customers in worldwide, we have chance to innovate our product to meet advanced standard, and we have won the good reputation in bag-making area. To meet the challenge of ever-changing market conditions and uplift of production efficiency, Sing Siang has invested greatly not only into developing and innovating but training all our employees. All the machine making process is rigidly supervised to make perfect quality and advanced equipment. Sing Siang bag making machine has developed humanized and automatic operating functions in pursuit of good quality and high efficiency. Through central control system with human-machine interface touch screen and PLC control, plus automatic alarm system, operators can accurately and simply control the bag making machine quality.
The Feature :
-Double folding device easy to adjust and save the machine and product space.
-Servo motor driven, easy adjustment for bag length and production speed.
-Double Servo ratio driven system ensure seal and perforate position.
-Computer control over the entire process From film roll to finished bag in one process flow.
-Machine stops automatically for breakage, shortage.
-Photocell auto stop when mark sensor miss.
-Automatic film feeding, coordination free from tension adjustment.
-Automatic Roll change without stop, high production and manpower efficiency.
- Rewind driven PLC control systems combined with tension roller & speed adjust systems.
-Auto-labeling system available as an option.
※ Future
In the future, we will improve our technology to be more efficient, used –friendly and durable to stay competitive in the market from constant customer feedback and information. If you have any questions, please do not hesitate to contact with us.
More Information on PRM: http://www.prm-taiwan.com/com/sing-siang.html